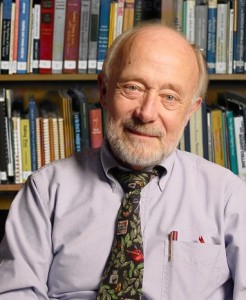 Meet the Author
Marcus Borg is Canon Theologian at Trinity Episcopal Cathedral in Portland, Oregon.  He is also professor emeritus in the philosophy department at Oregon State University, where he was the Hundere Chair in Religion until his retirement in 2007.  Borg is among the most widely known and influential voices in progressive Christianity.  He is best known for his work as a fellow in the Jesus Seminar, his biblical scholarship, and as the author of over twenty books.  His most recent books are Evolution of the Word: The New Testament in the Order the Books Were Written (2012),  Speaking Christian: Why Christian Words Have Lost Their Meaning and Power — And How They Can Be Restored (2011 – read my review or locate this text on my list of the top books of 2011) and Putting Away Childish Things: A Tale of Modern Faith (2010 — read my review).
Book Basics
By placing the books of the New Testament in the order they were written, Evolution of the Word invites readers to experience how early Christian thinking evolved over the eight decades during which the twenty-seven books were written.  Borg uses the introductory section to offer a succinct overview of the historical approach that is commonplace in academic study and which guides his work.  He then introduces each book with two to eight pages that provide data about the how he selected the most likely date the book was written, its historical context, and its significant content and themes.  Borg follows the introductions with the biblical text from the New Revised Standard Version (NRSV).
Those who seek to follow the way of Jesus will find their journey enriched by reading, pondering, and responding to Evolution of the Word.  Whether Borg's historical approach is new and novel or the only known option and normative, actually reading the New Testament text as he presents it invites the reader to read the words as if reading them for the first time.
So What?
While many Christians have participated in a group Bible study and listened to a presentation on how the bible developed and how it should be read today, only a small percentage have engaged in a study that accomplishes both tasks.  Evolution of the Word is the best way I know to approach this task.  While this endeavor can be undertaken individually, it will be enriched by group discussion.
How has an historical approach to the New Testament influenced your understanding of Christianity?
List a few of the positive outcomes people are most likely to experience from reading this book and participating in a group discussion about that experience.
Marcus J. Borg.  Evolution of the Word: The New Testament in the Order the Books Were Written (HarperOne, 2012).  ISBN: 9780062082107.
Tweet