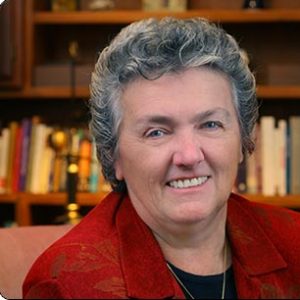 Sister Joan Chittister is a progressive Benedictine nun, a prolific author, and sought after speaker.  She recently gave the baccalaureate address at  Stanford University.  In this moving speech on leadership, she shared these words with the graduates and all who were gathered:
No, the world does not really need the skills you learned here. Today's skills will all change in the next five years and change your life with them.

The world does not need answers either. Answers are easy to come by: You Google them.

No, what the world really needs from you now is the courage to ask the right questions without apology, without fear, and without end.

It needs those who will lead from the vantage point of new questions, not old answers. From the point of view of enduring values, not denominational politics; from the perspective of global needs, not parochial interests.
In her conclusion, Chittister challenges her listeners to be rebel leaders: "If you really want to lead, you must rebel against forces of death that obstruct us from being fully human together."
So What?
Leaders assist in meaning making in the present and aid in forming the future. No matter where you are on life's journey, now is a good time to reflect on what it means to you to be a leader.
How well do you measure up to Chittister's standards?
Are you a rebel leader?
How does your faith influence your definition of leadership? impact how you embody these ideas?
Note: Joan Chittister's book Happiness was one of my top 11 books of 2011.
Tweet