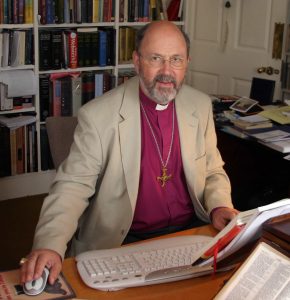 Meet the Author
N.T. (Nicholas Thomas) Wright has spent most of his life in academia.  He taught New Testament studies for twenty years at Cambridge, McGill, and Oxford Universities before serving as Bishop of Durham in the Church of England from 2003-2010.  Wright now serves as chair of New Testament and Early Christianity at the University of St. Andrews.  He has written many highly regarded books including Simply Jesus: A New Vision of Who He Was, What He Did, and Why He Matters (2011) and Surprised by Hope: Rethinking Heaven, the Resurrection, and the Mission of the Church (2008).  Additionally, Wright's translation of the New Testament was recently published as The Kingdom New Testament: A Contemporary Translation (2011).
Book Basics
Wright believes that most modern and postmodern readers of the New Testament currently read the gospels in a way that does not allow for the fullness of their intended meaning to surface.  This deficit emerges from a view of the great creeds that shapes readers perspective of the Gospels.  Wright argues that the gospels focus on "God becoming king," while the creeds are focused on "Jesus being God" (p.20).  By understanding that the creeds arose as a means of establishing orthodoxy on controversial issues present day readers are encouraged to grasp the creeds' original intended role and view the missing middle (those issues which early Christianity agreed upon and therefore which were often omitted in the creeds) that focuses on Jesus' ministry as a form of inaugurated eschatology.  With a proper view of the creeds and an awareness of the Enlightenment's continuing influence on biblical interpretation, readers are ready to consider four additional matters that must be re-balanced.  Comparing these four to speakers that provide surround sound, Wright proposes these corrections based on how most hear each today.  More specifically he suggests the four gospels be heard as
"the climax of the story of Israel" — a speaker deserving increased volume (p. 65);
"the story of Jesus as the story of Israel's God" — a speaker in need of decreased volume (p.84);
"telling the story of the launching of God's renewed people" – a speaker in need of decreased volume (p. 112);
"the story of the kingdom of God clashing with the kingdom of Caesar" — a speaker that has often been silenced and is in need of being turned on then up (p.127).
Only after providing readers with Wright's understanding of a properly balanced approach does he approach the book's primary contribution: an attempt to reunite the kingdom and cross as they are found in the gospels.  This reunion counters the reality Wright sees in recent decades that has lead to "kingdom Christians" and "cross Christians" who each believe the other is wrong.  While the "cross Christians" are focused on saving souls for heaven and the "kingdom Christians" on the so-called social gospel, the actual gospels bring the two together to create something far richer and wiser than the sum of these two parts (p. 359).  Only with this perspective can Christians return to and find the proper role for creeds.
So What?
I come to the gospels a progressive postmodern postdenominational follower of Jesus who
has been nurtured in both nondenominational and mainline communities of faith, including parishes affiliated with the Christian Church (Disciples of Christ), Evangelical Lutheran Church in America, Presbyterian Church (U.S.A.), and United Church of Christ;
takes Christian unity seriously and who has earned theological degrees at multiple schools affiliated with the Restoration Movement;
values the Scriptures deeply and who has earned a theological degree at a university affiliated with a Baptist (Baptist General Convention of Texas) denomination
recognizes the Christian sacred texts in the context of the world's great religious texts and who is both a student of and a college professor of world religions.
I come to Wright's work and realize my own "speaker volumes" do not match those he views as normative.  As such, I invite my readers to consider the relative volume of these four in their own lives and in the lives of their congregations and denominations.  In such a review do you find any speakers deserve greater or lesser volume? If so, how might this be achieved.  Finally, do you believe an additional speaker (or even speakers) should be added to the array?
What Next?
As I ponder the topic, I am drawn to Scot McKnight's recent book: 
The King Jesus Gospel: The Original Good News Revisited
 (2011 – read my review
here
). I welcome any references to books, articles and even conversations you have had that have enriched your perspective of the idea of Jesus as King in the gospels and of how best those living in 2012 can bring to life the rich wisdom found within their pages.
N. T. Wright.  How God Became King: The Forgotten Story of the Gospels (HarperOne, 2012).  ISBN: 9780061730573.
Tweet