"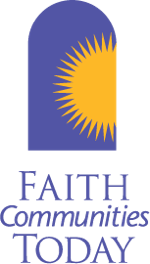 Virtually Religious: Technology and Internet Usage in American Congregations," the latest Faith Communities Today (FACT) report, provides insight into the current role of technology in churches by means of an aggregated data set that includes responses from over 11,000 congregations affiliated with over 120 denominations.
Congregational use of technology continues to increase:
During the most recent decade (2000-2010) congregational use of email and websites more than doubled: email increased from 35% t 90% and websites increased from 33% to 69%.
Many congregations are also adopting newer social media tools: over 10% now use blogs or podcasts and over 40% use Facebook (an option that had only been available to the general public for four years at the time the survey was conducted).
Higher rates of technology use correlate with desirable congregational attributes, including:
Higher levels of per capita giving
Enhanced distinctiveness and increased competitive edge
Greater likelihood that the congregation describes its worship as innovative, joyful, thought provoking, and inspirational
Greater percentage of congregations with a lot of their members involved in bringing others into the congregation

Enhanced and expanded usage of technology offers clear benefits, including:
Making congregational life more consistent with the everyday lives of members
Enriching members' daily lives outside of the worship service by providing religious meaning
Enhancing the number and depth of ties between members, including improved connections between members and leaders
Demonstrating that faith and ministry are relevant in the larger current cultural context
So What?
Scott Thumma, the paper's author, uses strong language to convey the significance of technology in the life of local congregations today, calling it a "congregational necessity" while recommending that all faith communities should be "hybrid congregations" that leverage both physical and virtual presences.  He rightly notes that technology alone is inadequate to fuel growth.  In reality, the majority of high tech congregations are at the extremes: rapid decline (>10%) and rapid growth (>10%).
Would you consider your congregation's use of technology to be marginal, modest, or major?  Given current trends within the membership, which word is most likely to be an accurate description of your congregation in 2017?
What are some of your congregation's success stories with adopting a hybrid approach? How have these been communicated to the congregation? Have they helped create a cultural shift that empowers members to take leadership roles in creating new forms of hybrid ministry?
How would your congregation's leadership body(ies) respond if asked if they view technology as a "congregational necessity?"  Your pastor(s)?
Tweet