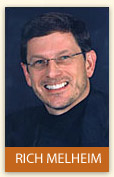 Lutheran (ELCA) pastor Rich Melheim is the founder and chief creative officer of Faith Inkubators, which he describes as "a Christian education systems design think tank and resource provider dedicated to incubating faith every night in every home."  In the February 22, 2012 edition of the Christian Century, he answered several questions regarding faith formation as a family matter, including one about high school youth ministry.
Q: How do you define a successful church program for high school-age youth?

A: The problems with that question have to do with three words: programs, for, and success.  I define successful youth ministry as youth doing ministry, not youth doing programs . . .  They don't need one more program.  What they need is meaning.    Meaning comes about when a teen – or anyone, for that matter – has five things going on in their core community: (1) giving in a significant way; (2) receiving in a significant way; (3) a bite-sized ministry in an area of their gifts and passions; (4) intimacy; and (5) fun (p. 24).
So What?
Youth ministry is an area of the church that often receives significant consideration and funding.  While most congregational leadership bodies want high school ministry to be successful, few define success clearly and even fewer employ means to measure how well it functions when compared to that standard.
How do you define success in high school-age youth ministry? How does your congregation?
In your experience, on a congregational level what is the difference between

youth doing ministry and ministry to youth
youth doing programs and youth doing ministry

What grade would you give your congregation's high school ministry with regard to meaning making using Melheim's five criteria?  How might this list be helpful in building and/or restructuring this ministry?
Tweet