Meet the Author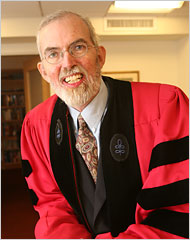 Forrest Church (1948-2009) wrote or edited more than two dozen books and served for three decades as the minister of the Unitarian Church of All Souls in New York City, which grew to be among the largest congregations affiliated with the Unitarian Universalist Association.  Church received the FDR Four Freedoms Award from the Franklin and Eleanor Roosevelt Foundation (2008) and the Art Buchwald Spirit Award from the National Hospice Foundation (2009).  His mantra for living well continues to inspire many in the progressive religious community: "Want what you have; do what you can; and be who you are."
Book Basics
Believing he had only a few months left to live, Church wrote what he intended as his final book,  Love & Death: My Journey through the Valley of the Shadow, in the spring of 2008.  The unexpected success of a new cancer treatment allowed him the time to write the one book he had never managed previously relating his "thoughts on religion, faith and God":  Cathedral of the World (p.x).  Cathedral includes excerpts or reprints of sermons, essays and speeches from Church's many years in ministry.
The text is divided into five "books." The fourth, "Universalism for the Twenty-First Century," is something close to an overview of Church's systematic theology.  Along with the third book, "A Liberal Pulpit," these two sections provide readers with an appreciation for what Church will be remembered as for generations to come within the liberal religious community: pastor and theologian.  Five brief quotes from this portion of the book follow:
The Commonwealth of God is grounded not in uniformity but mutuality.  We are not replicates of one another but related to one another in a single body with many different members, each with a unique gift (p.69).
Death is not a curse to be outwitted no matter the cost.  Death is the natural pivot point on which life turns, without which life as we know it could not be (p.93).
I live according to a few simple principles.  One I call "nostalgia for the present" (embracing each day as it passes rather than ruining it after it's gone – p.111).
I don't disbelieve in an afterlife; I simply have yet to experience an afterlife, and therefore have little to say concerning one (p.121).
Jesus was anything but a biblical literalist. He teaches parable by parable, not by citing chapter and verse, and gets into holy mischief repeatedly for breaking the letter of scripture (p.141).
So What?
Often religious people focus only on select leaders within the community of faith with which they affiliate.  Thankfully in an era when denominationalism has less and less meaning, many also look for leadership and glean wisdom from leaders of other traditions, especially those theologically similar to their own.  While those who are traditionally labeled by others as liberal should be reading what liberal religious leaders write, so too should theological conservatives.  Likewise, those all across the theological spectrum are enriched by encounters with differing perspectives.  Church uses a cathedral metaphor of one light, many windows to describe why he finds value in the many paths people follow.
Which of the five quotes above speaks most directly to you?  Ponder those words for a day or two and allow meaning to emerge.
What do you know of Forrest Church, and what would you like to learn?
What do you know of Unitarian Universalism, and what would you like to learn?
Forrest Church.  The Cathedral of the World: A Universalist Theology (Beacon Press, 2009). ISBN:9780807006214.
Tweet