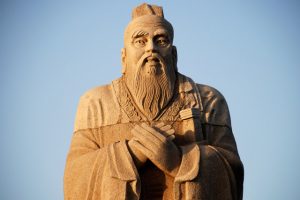 Last semester I taught an undergraduate introductory course in world religions.  While my students knew of Confucius, none had previously read his Analects. If you have never done so, I encourage you to take a few minutes to do so online (you can do so here thanks to the Massachusetts Institute of Technology).
Whether or not you read the Analects in full, consider the following excerpt:
Tsze-kung asked what constituted the superior man. The Master said,"He acts before he speaks, and afterwards speaks according to his actions."

The Master said, "The superior man is catholic and not partisan. The mean man is partisan and not catholic."

The Master said, "Learning without thought is labor lost; thought without learning is perilous."

The Master said, "The study of strange doctrines is injurious indeed!"

The Master said, "Yu, shall I teach you what knowledge is? When you know a thing, to hold that you know it; and when you do not know a thing, to allow that you do not know it;-this is knowledge."
So What?
What wisdom does the Master offer you for living well today?
When have you found yourself acting in a partisan manner of late?  How might you be intentionally less so in the months ahead?
For those who follow the way of Jesus, how do these words empower you to live more fully and faithfully according to that path?
Tweet