Osama bin Laden's death has been a lead news story for the last several days.  Over the course of the week I have read a number of tweets, Facebook status messages, and blog posts commenting on the matter from a Christian perspective.  These reflections represent a wide range of theological beliefs, including a number that place United States citizenship above one's place in the reign of God and sound quite unChristian.  In contrast, I offer the words of leaders from two of the mainline denominations with which I have been affiliated.
The Rev. Mark S. Hanson, presiding bishop of the Evangelical Lutheran Church in America (ELCA) writes:
The death of Osama bin Laden is an occasion for solemn remembrance. We remember the lives of all whose deaths resulted from his choosing hatred and violence. We stand with those who continue to mourn the death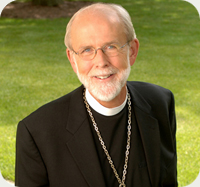 of loved ones while giving thanks for their lives, their love and their faith. We also continue to hold in prayer all whose service in the military, in government and in humanitarian and peacemaking activities contribute to a safer and more prosperous world.
At the same time we also recall who we are: people baptized into Christ, freed to serve our neighbors. We are people called as Christ's ambassadors of reconciliation with our neighbors, serving God's work of restoring community. We engage our neighbors of other faiths, including our Muslim neighbors near and far, in respectful, searching dialogue and shared commitment to build a world that reflects God's will for peace with justice. We pray for our neighbors, even those who are our enemies.
The Rev. Geoffrey A. Black, general minister and president of the United Church of Christ (UCC) writes:
There is no joy in this moment for us, because first and foremost we understand ourselves to be the disciples of Jesus. Jesus calls us in his teachings to do the difficult thing of loving our enemies and praying for those who persecute us. If nothing else, Osama bin Laden was an enemy of the United States and other governments

around the world. His death at the hands of our military brings his life as an adversary to an end, but it does not bring us any closer to our ultimate goal – a just peace, healing of the human spirit and reconciliation between human beings and with God. We know that revenge does not lead to healing and reconciliation. It does not move us any closer to peace . . .
Yet, we now have an opportunity to pursue international goals that the United Church of Christ has long advocated: a troop withdrawal and end to combat operations in Afghanistan; the continued hope of a just resolution to the conflict between Israel and the Palestinians; engaging in meaningful relationships with people of other faith communities, including Muslims; and to use the gained political capital to promote a just peace on many fronts.
Above all else, it is a moment for prayerful reflection . . .
So What?
Osama bin Laden's death was announced by President Obama this past Sunday evening.  For many congregations, the first opportunity to consider this as a community of faith will be Sunday morning.
Consider the remarks you have read that were written by people of faith.  What comments have been helpful to you in considering Osama's death in light of your faith?  Have you encountered any that you were disturbed by and/or would label as unChristian?
How will your congregation address this matter on Sunday in worship and/or education?
Has your denomination responded in an appropriate and timely manner? Has it provided resources for individual and/or congregational use?  Did it release a statement (as in the case of the ELCA and UCC)?
Tweet