Scot McKnight.  One.Life: Jesus Calls, We Follow.  Zondervan, 2010.  ISBN: 9780310277668.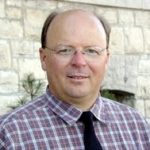 Meet the Author
Scot McKnight is professor of religious studies at Northpark University.  He is a leading authority on the New Testament, early Christianity, and the historical Jesus.  McKnight has written over 20 books including The Jesus Creed: Loving God, Loving Others (read how this book has influenced me), Fasting (read my review), The Real Mary: Why Evangelicals Can Embrace the Mother of Jesus (read my review), and One.Life: Jesus Calls, We Follow (2010).  In early 2011, his commentary on James will be published as a part of the New International Commentary on the New Testament.  McKnight's award-winning blog, Jesus Creed, has been rated by Technorati.com as the #1 site for Emerging Church and has been the inspiration for several of my blog posts (including on leadership, on reading the whole bible,  and on reaching 20-somethings).
Book Basics
If you are tired of Christianity and being Christian according to the terms of modernity or denominationalism, but long to follow Jesus  . . .
If you want to orient your life around the kingdom of God, not the Empire of America . . .
If you want to experience a faith that is guided by love, not mandated by rules . . .
then read One.Life and seek to live the authentic life of faith on Jesus' terms.
McKnight's Jesus Creed is the compass for living as a follower of Jesus that always points toward loving God and loving others; One.Life is the map that is incredibly personal yet only makes sense in community, which enables followers of Jesus to make the most of the One.Life they have to live.
So What?
McKnight contrasts two visions of what it means to be a Christian: the one presented to him as a young person and the one he now presents to his readers and students, which is based on his study of Jesus:
A Christian is someone who has accepted Jesus; and the Christian life is the development of personal (private)practices of piety, separation from sin and the world, and a life dedicated to rescuing sinners from hell (p.15).
A Christian is one who follows Jesus by devoting her or his One.Life to the kingdom of God, fired by Jesus' own imagination, to a life of loving God and loving others, and to a society shaped by  justice, especially for those who have been marginalized, to peace, and to a life devoted to acquiring wisdom in the context of the local church.  This life can only be discovered by being empowered by God's Spirit (p.106)
Have you experienced a similar shift in your understanding of what it means to be a Christian over the last several years?  If so, how has it changed what it means to you to live as a follower of Jesus in the midst of the everydayness of life?  If not, how would you characterize any shifting in your perspective or has it remained fixed?  If it has remained fixed, are you open to allowing it to be reshaped should your study of Jesus lead in a new direction?
What are your initial impressions of McKnight's description of what it means to be a Christian?  How might this view be leveraged as a means not only to helping individual believers grow in their faith, but in helping communities of faith recapture the vision of Jesus for  Christian unity?
Tweet