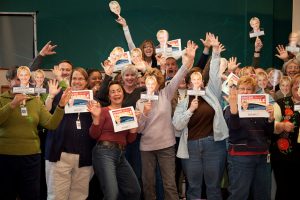 The United Church of Christ, a progressive mainline denomination with 1.1 million members, recently launched a creative campaign designed to land Ellen DeGeneres as a keynote speaker at their General Synod, which will be held from July 1-5 in Tampa, Florida.  Geoffrey A. Black, the UCC's General Minister and President, wrote a letter explaining why and how the denomination is pursuing Ellen:
Your life, values and humor represent the best of what our church hopes to embody through our witness in the world: joy, love, hope and service. Everyday, you lift the spirits of millions, something we affirm as a sacred gift.
We know you must receive hundreds of speaking requests each year. This is why we are launching a grassroots campaign across our membership to introduce our church to you and encourage you to accept our invitation. Please know it is not our intent to harass you or "convert you" — that is not our style. Instead, we are hoping a little silly creativity on our end will help to convince you that we're a church that's worthy of your time and attention — and worthy of your acceptance of our invitation.
At a time when religion is often used to divide and exclude people, we seriously believe your participation at our biennial event could send a powerful message to the world: "Imagine What's Possible" if we could set aside our need to be right and focused instead on bringing hope and healing to one another, if we could lighten up — and love instead. We feel you are the one to deliver this message.
The grassroots effort includes a web presence with campaign tools encouraging everyone to get involved by sending letters, posting pictures and videos, blogging and spreading the word to widen the welcome.  The campaign is relying heavily on social media.  You can follow on Twitter, like on facebook, view images on flickr, or watch videos on YouTube.
On the FAQ page, the following response is provided to the question: "What are we doing?"
We are asking UCC members and churches to unleash their inner Ellen, by creating funny, inviting photos and videos — and submitting them so we can upload to YouTube & Vimeo and send them along to her.  Learn more. Our message to Ellen is succinct:
 At a time when religion is often used to divide and exclude people, Ellen's address before a major religious body could send a powerful message to the world, a message of hope, inclusivity and acceptance — and the need for more love and laughter.
We're a church that resonates with Ellen's personality. 
We're a church with a sense of humor, even as we advocate for justice.
We're a church that offers extravagant welcome and changes lives.
We're a church that loves to dance!
So What?
This grassroots campaign to get Ellen to Synod as a keynote speaker was initiated by the denominational leadership, but will be successful only if the membership mobilizes and embraces the silly creativity suggested by Rev. Black.  As with any new initiative of considerable size, there is misinformation.  I commend Edith Guffey,  the UCC's Associate General Minister and the administrator of the General Synod, for her article explaining the back story, addressing concerns, and giving a real answer to the question of whether or not this entire effort is a gimmick. 
Why Ellen and why now are two important questions. The first is answered above and supported by the wide range of speakers who have addressed General Synod in recent years including Barack Obama, Bill Moyers, Eugene Robinson, Marian Wright Edelman, Andrew Young and the late Lynn Redgrave.  The second is addressed above via the understanding of how she could contribute to this Synod's theme.  Both questions are answered in part by an understanding of the denominations quest to be or become relevant in part through the usage of social media and grassroots endeavors and Ellen's past positive responses to these types of unique requests.
What are your impressions of the UCC's recent attempts to mobilize the membership in targeted ways? 
If you are a part of another denomination, how many similar initiatives has your denomination undertaken recently?  In your view, do these compare favorably to those listed for the UCC?  Why/Why not?
My Invitation to Ellen
Ellen, speaking at General Synod is an opportunity unlike any other:
Experience the welcome of 5,000+ new friends who enjoy providing radical hospitality
Speak to an open minded audience receptive to hearing then sharing your message
Learn new things about yourself and about Christianity
I hope you will come to General Synod not because of an overwhelming number of requests, but because it is something you genuinely want to do.
Tweet